Welcome to
Adria Arjona Fan
, your web source for the talented actress. We provide the latest news, information, and photos to keep you up-to-date on everything going on in Adria's career. You may know her from projects such as
True Detective
,
Narcos
,
Emerald City
,
Pacific Rim: Uprising
,
6 Underground
, and most recently Marvel's
Morbius
and the Star Wars Disney+ Series
Andor
. Adria can also be seen being the face of
Armani Beauty
and a spokesmodel for
Tiffany and Co
. If you have any questions, comments, or concerns; don't hesitate to contact the webmistress.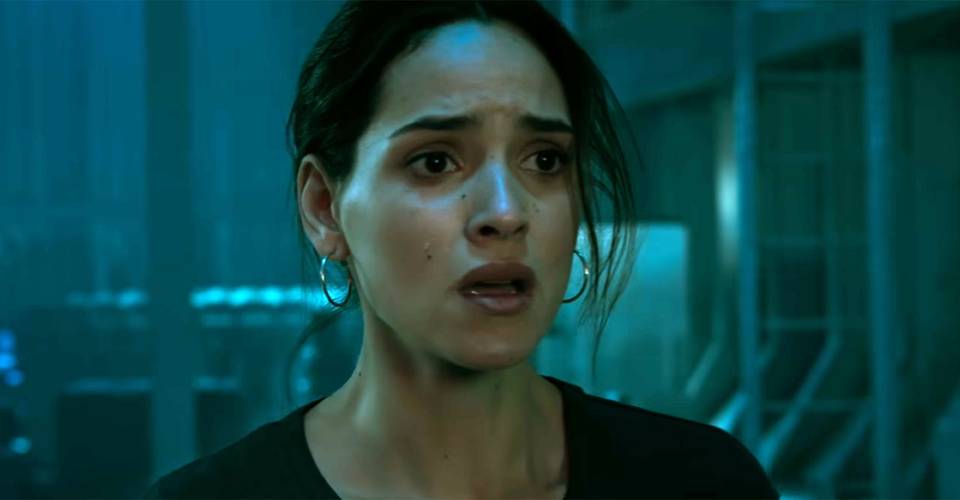 Morbius star Adria Arjona reveals the real-life inspiration for her Marvel movie role as that of Congresswoman Alexandria Ocasio-Cortez.
Morbius star Adria Arjona reveals the real-life inspiration for her Marvel movie role as that of Congresswoman Alexandria Ocasio-Cortez. Arjona stars in the latest installment of Sony's Spider-Man Universe as Martine Bancroft, the fiancée of the titular antihero and a fellow scientist. When Morbius elects to try and cure his rare genetic disease with a form of transgenic vampirism, Martine must try and find a way for him to curb his newfound bloodlust and retain whatever humanity and morality he has left.

Alongside Arjona, the cast for Morbius includes Jared Leto in the titular role, Matt Smith as antagonist Loxias Crown, Jared Harris as Morbius' mentor, Al Madrigal as FBI Agent Alberto Rodriguez and Tyrese Gibson as FBI Agent Simon Stroud. Development on a film adaptation of the Marvel character has languished for nearly 20 years until Sony began building its own shared universe of Spider-Man characters beginning with Venom, with Leto signing on to lead the cast in mid-2018. Though originally planned as the second chapter in the SSU, Morbius is now set to hit theaters in April as the third after Venom: Let There Be Carnage.

In anticipation of her comic book movie debut, Morbius star Adria Arjona has opened up about the real-life inspiration for her Marvel movie role. The actress cited Alexandria Ocasio-Cortez as her key influence for portraying Martine, pointing the Congresswoman's ability to be "youthful, fun" and demand the attention of those in the room as helping her embody her role. See what Arjona said below:

"When I started playing this role, I thought, 'I'm playing with such amazing actors, but I'm not like Martine – I'm goofy and clumsy and Martine is very grounded and secure in herself – when she speaks, it's like bullets coming out of her mouth.' So I looked for inspirations. I remember seeing an interview with AOC and thinking, everything about her is Martine. She's youthful, she's fun, she cares about the way she looks, but she cares even more about what goes into her brain. She's passionate; when she speaks, you can tell she's done her research; she's going to be listened to, no matter who is in front of her. So she was my starting point, a nice way to start my engines."

Ocasio-Cortez, affectionately known as AOC by many, has enjoyed a rise in stardom in the U.S. political field since winning the Democratic Party's primary election for New York in 2018 and winning the re-election in 2020 to become the youngest woman to ever serve in Congress. Arjona taking inspiration from AOC for her performance as Martine in Morbius is a promising sign for what's to come from the character in the film and her personality. In the comics, Martine Bancroft was originally introduced as Morbius' secretary and girlfriend rather than a fellow scientist, making this transition towards a strong female character in the film far more enticing and timely.

Bancroft's journey in the comics after Morbius' Living Vampire transformation is an interesting rollercoaster of bolstering his status as a tragic antihero and serving as an antagonist for him. Given the upcoming film marks both character's theatrical debuts and appears set to establish a wide-spanning future for all involved, it seems unlikely Arjona's Martine will be the latter any time soon and instead help ground Leto's antihero as he grapples with the moral dilemmas of his new abilities. The wait for Morbius is nearly over as it hits theaters on April 1.